Meditative Art Basic Course
10 Days intensive experience
with Mochita Har-Lev and Lior Cohen
Playing with mud, painting next to a flowing waterfall, yoga and meditation, all combined with theoretical knowledge and personal investigation – come learn to apply a meditative mind when creating with natural materials.
Meditative Art Basic Course brings together different practices that support deep inner work, creativity and spiritual growth in a beautiful and natural environment. Each day incorporates lectures, guided classes and personal work with daily practice.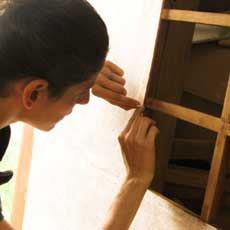 When?
Date: 27 February – 9th March 2015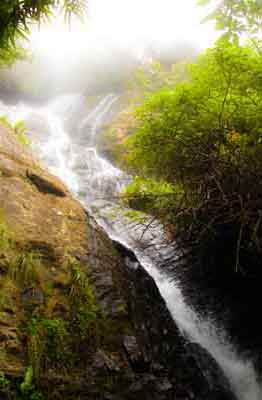 Magical Location
Our courses and workshops are held at naturally beautiful places to give inspiration and support to our work.
This year we will hold our courses at Kodaikanal Yoga Center – a magical retreat center situated in the heart of an eco-farm on the mountain range of south India.
Schedule
6:00 Silent Meditation
7:00 Yoga
8:00 Karma Yoga / Morning Break
9:00 Breakfast
9:30 Meditative Art Practice
12:30 Lunch
13:00 Lunch break 
14:00 Meditative Art Practice
15:30 Individual Work
16:00 Meditative Art Theory 
17:30 Meditative Walk
18:30 Yoga Nidra – Ruided Relaxation
19:00 Light Dinner
20:00 Silent Meditation
21:00 Good Night
Friday will be a day of rest & self practice .
Course Certificate
All students who successfully complete the course are awarded Meditative Art Basic Course Certificate
Pricing and Booking
Price:
750 Euro.
Discount for Indian citizens.
Advance: 350 Euro (part of course fee)
Includes: accommodation, food, and all the art materials used during the course.
Cancellation policy: The advance fee is non-refundable, non-cancellable and non-transferable. If you need to cancel the course due to unavoidable reasons the booking amount can be adjusted/used in any future course you do with us.
Course Contents
The course includes the theory and practice of Meditative Art, incorporated in a basic structure of spiritual life.
Theory – lectures and personal investigation
Each day we will have a theoretical lecture, followed by time for personal investigation. Our lectures will focus on four main themes:
Meditative Art practice and personal work
Our Meditative Art sessions will be divided into different departments:
In our guided Meditative Art practice we will learn techniques of work and use a variety of natural materials. We will emphasis on a meditative state of mind when connecting to materials, colors and shapes.
Basic structure of spiritual life
In addition to Meditative Art, each day we will practice:
These will provide us with the supportive structure of spiritual life.
The practice of Meditative Art involves art and meditation. We must be both artists and true spiritual seekers, in order to remain pure and in tune. We keep our spiritual progress as our ultimate goal, and use meditation it's base. Furthermore, dedicated and continuous yogic practices helps us sustain a healthy and harmonious body and mind.
Practicing Meditative Art must go hand in hand with a other regular meditative practices, together they help us grow and deepen our spiritual search.