Yoga in Naxos, Greece
Contact Us
Personal Yoga Holiday in Naxos, Greece
with Mochita Har-Lev
Ever dreamed of a holiday that is adjusted to your personal needs, times and abilities?
Need a freestyle yoga vacation that is relaxing yet enriching?
Want to go somewhere beautiful and inspiring on the beach? Quite, friendly and welcoming?
This is what you have been looking for!
Offering group & 1-0n-1 personal practice on the crystal blue beach of the delicious Greek island Naxos...
Classes can take place on the beach or in a covered veranda in Chora town/ Ag. Anna / Plaka / Mikri Vigla / Kastraki.
If you need, we are more then happy to help you book your accommodation and car rental. We will gladly provide all the information needed to insure your fabulous holiday.
Treat yourself to a vacation that is all about you. 
Click Here to Book Now!
Magical Location
All our courses and workshops are held at naturally beautiful places to support our work.
The practice will be taking place at Naxos, a breathtaking Greek Island.
"Naxos is the most popular undiscovered Greek Island" Matt Barrett Travel Guides 
"My Naxoa holiday was absolutly perfect. Warm hospitality, great food, yoga practice, and endless crystal blue beaches. I'm definitely coming back next year."  —Jenni Max
The Vision
The scheduled and the classes are built to suite the students abilities, needs and style.
We see retreat times as an integral part of healthy and harmonious life, a time we dedicate with love to ourselves.
Contact Us
TESTIMONY FROM STUDENTS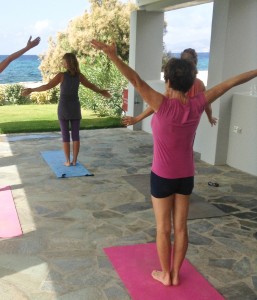 "Dear Mochita, your classes have been not only fascinating & supportive, but a beam of light to a real change in my life. After the first class I could finally sleep again. Thank you, you helped me find peace" Ulli W. Holland
"Mochita, thank you for the practice. I always feel better after your classes, more clam and happy. I feel lucky our ways have crossed." Anne Pavel
Click here for more information and to book NOW !