Our Story
Meditative Art School applies the process of creating, as a spiritual practice. Coming from the background of both the art field and the spiritual world, we combine the two together. In this way spiritual seekers can support their love and need to create and vice versa artists can utilize their creativity for inner growth.
We have been exploring and developing the field of Meditative Art both theoretically and practically. Building, playing and experimenting with natural materials, we gather and develop techniques for this practice. We have founded the School to teach Meditative Art in a modern way, and bring together traditional forms of meditative arts from around the globe. We are also yoga and meditation practitioners, as well as qualified and experienced teachers.
Learn More about Meditative Art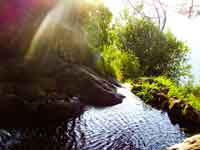 Discover the essence of Meditative Art from your home... wherever you may be around the globe. Our books offer a beautiful and deep exploration on Meditative Art, both theoretically and practically.
...."It is a beautiful and very informative book. Thank you so much for creating it. It is such a lovely book." Margaret. USA