Colors of Spring
Meditative Art & Yoga
Shambala Gatherings
5 days at an inspiring location, Sweden
with Mochita Har-Lev
Welcome spring and joy of creativity in this fascinating retreat which combines:
Meditative Art, Yoga & Meditation.
Learn and experience art in a different light as means for inner growth through: Meditative Painting & Sculpting, Creative Movement & Writing.
Treat yourself to an uplifting creative experience. 
When?
Date: 2015  April 17-22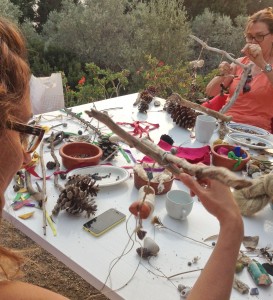 Magical Location
All our courses and workshops are held at inspiring locations to support our work.
This program will be taking place at Shambala Gatherings – a beautiful retreat center in Sweden, whihc is simply full of love. "Our passion is to hold space for you. For you who is desiring to grow in whatever way you find natural to yourself"
"Shambala Gatherings- a unique experience to show, share and develop your love in this Nordic wonder of nature." Jorge & Jaime, 2013 shambalagatherings.com
The Vision
We see retreat times as an integral part of healthy and harmonious life; a time we dedicate with love to ourselves.
Pricing and Booking
All Inclusive Price: 4500 kr / €480 
The Price Includes:
The full five days Meditative Art program, along with the yoga and meditation.
Food and accommodation.
All the art materials we will be using in the Meditative Art sessions.  
 To secure your place or for more information, simply contact us: info@meditativeartschool.com 
or Shambala Gatherings: shambalagatherings@gmail.com
Contact Us
Each day will start with a refreshing yoga & meditation session.
We will have daily sessions of Meditative Art practice, exploring different art fields and a wide range of natural materials (such as natural colors, wood, stone, beads, raw wool and much more). We will also dive into the theory of Meditative Art, learning basic aspects of Spirituality.
To conclude each day, we will enjoy walking Meditation or sitting Mediation, as well as guided Relaxation.
During the retreat, we will be working indoors and outdoors, in silence and through sharing with others.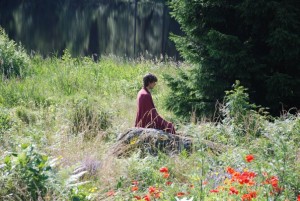 Meditative Art goes hand in hand with other regular meditative practices; together, they help us grow and deepen our spiritual search. 
We will be using Meditative Art to develop a deep understanding and experience of ourselves, life and that which is beyond.
Learn to use art as means for inner growth, a way to connect to yourself, to your creativity and to the source. 
Discover art from its real and original place, not just a form of expression of feelings or ideas, but rather a sacred path. 
"Mochita is a generous soul and a beautiful teacher. Her lessons on Meditative Art and the use of natural materials were inspirational and made feel new and accessible to me.
I look forward to taking the gifts I received into my daily life."
Debbie Lacy, Life Coach, Canada 
"My dear dear Mochita
Thank you for your smile your beautiful words, for your calmness you spread around us all week. I will keep your words inside me and they with give me strength and serenity and softness. Thank you from my heart & hope we meet again."
Immense Love Penelope. Cypress