Eco Art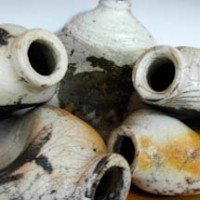 Turning Garbage into Art
Working with recyclable materials is a cheap, accessible and creative way to make art. It can also be regarded as an eco-friendly form of creativity. This is filed that is becoming more and more popular with the endless amount of garbage that we humans create each day, each yer. Polluting our oceans, our lands, our rivers, our earth, with industrialization, endless consumption, single use product and just plain laziness.
If we long to create something beautiful and we can clean up our mess while we are at it, then its a real win-win !
There are countless ways to create art using recyclable materials such as old cloth, metal, broken glass and mirrors, reusing old news paper, old wood and much more.  
The image is an artwork by the Israeli pottery artiest Nurit Wolpe from her exhibition "Veeyno Kale" which literally means "that which cannot be extinct". The photo was taken in her Studio in Tivon, Israel.
 In essence, materials can be divided into two categories:
Natural materials – such as stone, wood and clay, leather, wool, coconut fibers, cotton, metal and rope
Synthetic materials -such as plastic, cement, tire etc
Image below: Blue Rope, by John Dahlsen, Environmental Artiest. Made from recycled materials form the ocean.
 …
Eternal Natural materials
The basic idea of recycling materials is as ancient as can be; for, natural materials – by their very nature – are endless and can always be reused. In pottery, for instance, the use of old broken clay vessels is very common and new clay can be made from a mixture of finely crushed bits of old clay. This gives the new clay more depth and more strength. This traditional way of creating fresh material results in a wide variety of interesting kinds of clay.
Working with Recycled Wood

Reusing old wood is another popular and traditional way of creating art with ecological awareness. Old wood has numerous advantages in comparison to the newly cut wood  and it is also much more environmentally friendly. When quality wood (such as teak) is seasoned, its value only increases. It is then regarded as more reliable and strong. In comparison to new wood seasoned wood  does not bend or twist like new wood that is still full of water. All wood is living material, which means it reacts to climate changes – it expands in winter when the air is moist and shrinks in summer when the air is dry, yet there are only minor movements. Recycled wood, like a ripe mature woman, is full of wisdom and deep beauty. At times, these qualities need to be revealed and exposed with love and care, at first more roughly and then gentler.

Worldwide, there are markets where old wood can found – as planks or as an object 'readymade'. It is magical to revive and work with recycled wood. It also has small exciting risks as a part of it, for its inner beauty is unknown from the outer look. Yet, this is not a real gamble, since most old wood – with the right kind of makeover – tends to be absolutely beautiful.
Image from the construction of Kodaikanal Yoga Center, India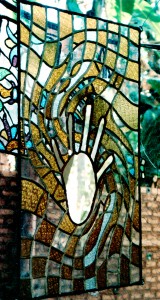 Broken Glass & Mirrors
Glass and mirrors are relatively new materials, having first started being popular in  artworks during the 19th century. By working with broken glass and mirrors, we can make amazing mosaics, sculptures and even construct a creative window, door or wall.
Glass bottles can also be incorporated in different ways, and Paper-Mache can be combined into the work as well. As can be seen in these photos of the work of the late French artist, Pathik Villatro, this magnificent art form has its own original style and technique, where results are aesthetic and ecological.
Ecological building
Earthship is a new and unique form of alternative construction, invented by a pioneer called Michael Reynold. It is a fascinating way of building that is intelligent and uses recyclable materials such as used plastic and glass bottles and old tire. Unlike the usual case, where one is demanded to invest many financial resources to build, when building an Earthship, one first starts by making money – since this unique way of construction requires different kinds of waste products that many companies are willing to pay good money to get rid of.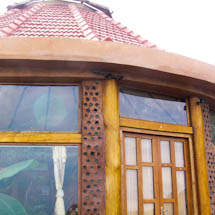 The Earthship incorporates different systems that enable houses to be self sufficient even under extreme conditions and climates. A few of the many basic concepts that make an Earthship are: the walls of the house, which are built from tires that are used as a frame for Ramed-Earth; the tires are arranged in rows and can be arranged in any round form one can think of (a dome, spiral, est.). The walls are constructed from recyclable plastic bottles as well as other waste objects.
Photo of 'Earthship Karuna', Kodaikanal, India
From Junk to a Masterpiece
Anyone can be creative and make masterpieces from old junk!
Due to lack of resources, or simply out of a wish to create less waste, sculpturing from recyclable materials can produce amazing results and can also be very useful. Chairs, tables and benches for outdoors or indoor sitting areas, children's play ground as well as environmental sculptures are only a few examples I have personally constructed, but the sky it the limit.